How to make external cable for e-scope 3-in-1

The headphone plug of the iPhone is as shown below; the bottom of the terminal is used for both Mic input and power for the microphone unit.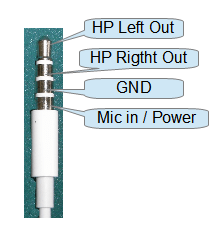 We will work on the cable as shown below.
3.5 mm to 3 RCA AV Camcorder Video Cable  for Sony  or JVC
This cable is intended to receive the audio and video signals from a  Camcorder etc..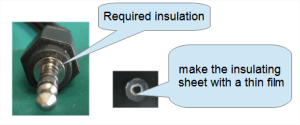 The terminal in white (yellow) color is L (R) output, and the red terminal is for the microphone input.The circuit to connect the ECM unit to the microphone terminal is shown in the figure below.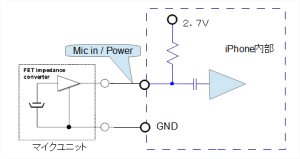 To use the microphone terminal as an external input, the microphone terminal have to be kept at the same voltage level as the microphone unit is connected to the microphone jack.
So we insert a circuit as shown in the figure below.

R1 (6.2k) resistance is selected to switch the microphone terminal to external input mode by lowering the voltage level.
R2 (110k) is a voltage dividing resistor for attenuating the input.
Sensitivity of the oscilloscope mode of the 3-in-1 e-scope is almost the same as (mv / Div) with the constant.
C1 is the DC cut capacitor. Please use a capacitor with no polarity here. The circuit so far is for iPhone4S.
The following figure shows the circuit for iPhone5s.


If there is a possibility that a large signal may be input, please use the circuit below.
Please connect an alligator clip to the output terminal in both yellow (in the figure) and white.



There is a risk to damage the iPhone if you make the wrong connection with this cable.
The circuit as shown in the figure below is much safer.


* Operation check
Please plug the 4-pole connector to the iPhone, then connect the input terminal and the output terminal of the cable.
Start the 3-in-1 e-scope signal generator with the sine wave at 400Hz frequency.
Please make sure that the sine wave is displayed if you increase the volume of the iPhone.
It is easy to see a stable waveform when the Trigger mode is on.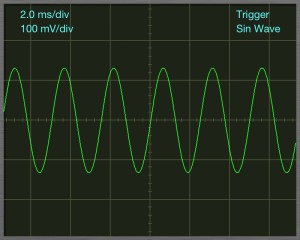 Then please switch to the FFT mode.
It is OK if you can see the display as shown in the figure below.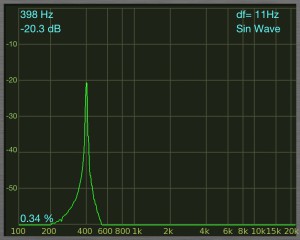 Note:
It is dangerous to connect this cable to the high-voltage terminal.
Please do not do so absolutely.

Disclaimer:
Please use this article at your own risk.
Please acknowledge that we are not responsible for any damage caused by any trouble.